We start every client journey with a question. What's your number? 
Yes, we like numbers (we're a team of Accountants and Financial Planners after all), but we also know that numbers represent more than money in your pocket. That number might be the amount you need to retire with, what you want to sell your business for, or how much you need to buy your first home. That number is the end goal; the bigger picture. Knowing your number is how you create the life you want. 
Snelleman Tom was founded on the idea that "knowing your number" is the first step to achieving your life goals and aspirations. By identifying your number – your end goal – we can help you map the best course to achieve your life-long dreams. 
From the very beginning, we knew that there was more to accounting than tax returns and balancing the books. Good quality taxation, accounting and financial advice can achieve so much more. We know that good advice can have a huge impact on the families we work with, no matter where they are in the adventure of life. Partnering with the right advisor – one that takes a proactive approach to life-long wealth creation – can help you achieve a better life for you and your family. That's why we approach things a little differently at Snelleman Tom. We want to help you choose your own adventure, and with a team of advisors by your side, anything is possible. 
We take a different approach to life-long wealth creation
We often hear from new clients that their previous experiences with Accountants and Financial Planners has left a lot to be desired. Their suburban accountant might be great at filing a tax return, but has completely failed to prepare them for retirement. Their financial planner might have put together a winning investment portfolio, but hasn't seized on the big-picture opportunities that could have helped their business get ahead.  
We've always recognised that accountants don't know everything about life-long wealth creation and that financial planners aren't always across the minute details of tax law. 
In order to make a real difference in our clients' lives, we knew we needed to look at the financial journey through multiple lenses. That's why we take an integrated approach to creating life-long, intergenerational wealth for our clients and their families –  accounting, financial planning and business advisory all under one roof. Multiple perspectives and a broad base of knowledge on every project; a team of advisors all working together to help you achieve your end goal. 
Our integrated approach covers all aspects of the financial journey. So no matter where you are in your life's adventure, you have the benefit of a whole team of advisors helping you along the way. 
This is why working with Snelleman Tom is never transactional. We don't do short-term.  Yes, we can prepare a financial statement or budget (and we can do it well), but we know that real value lies in the long-term collaborative partnerships we establish with our clients. From day one, Snelleman Tom provides proactive advice that helps clients look forward to, plan and achieve their long-term life goals. It's how we achieve life-long value for our clients and their families. And as a boutique firm, we're able to provide customer-centric, personalised service that makes a real difference in our clients' lives.  
The Snelleman Tom Financial Success Plan lets you choose your own adventure
Snelleman Tom's unique business model is built around delivering the Snelleman Tom Financial Success Plan. We know that everyone is on their own journey in life, and that no two journeys look alike. Whatever adventure you choose, we can help make it possible with a tailored Financial Success Plan. 
The Financial Success Plan enables you to choose your own adventure by helping you to explore the wealth creation avenues available to you, protect the wealth you've worked hard to achieve, and create opportunities to live the life you've always aspired to.  
Every advisor at Snelleman Tom is highly knowledgeable and skilled at effectively delivering the Financial Success Plan and helping our clients succeed. We're a team of Accountants, Financial Planners, Business Consultants and Insurance Specialists all working together to help you achieve your life goals. Close strategic partnerships with other areas, such as Law and Banking, means we can provide proactive advice on all aspects of wealth creation and building a successful business. 
The Four Pillars of Wealth Creation
At the core of the Snelleman Tom's approach to wealth creation is the Four Pillars Philosophy. The philosophy is built on the idea that every financial journey is supported by four pillars of life-long wealth creation. 
The first pillar represents your business or salary – this is the income you generate. If you own a business, this pillar doesn't just include the income you generate from this business, it also represents the wealth that's released when this asset is sold. This pillar is the foundation for building all your other wealth creation strategies as this source of wealth can be transferred to the other three pillars. This 'asset' also includes less tangible aspects of your wealth, like your education. While it's difficult to put a number on the skills and knowledge you develop during this phase of your journey, there's no doubt that these learnings will translate to increased earning capacity in your future.  
The second pillar is your home, an integral avenue for building long-term wealth. As you and your family grows, so too can your home and your wealth with the right strategies in place. The equity you have in your home may be your most valuable asset, and if you're home is increasing in value, you can build on your equity without even trying. As this equity grows, you can use it as a stepping stone to your next asset, such as a new home,  a second mortgage, or to fund your retirement. Banks love to lend against property, so it's important to get into the market early on in your financial journey.
The third pillar is your superannuation, one of the most tax-effective ways of saving for retirement and an opportunity for building substantial long-term wealth. It pays to be strategic about your contributions – managing your super shouldn't be a set-and-forget activity. Your super is the pot of gold at the end of the employment rainbow.  
The fourth and final pillar is your other investments. Whether you're an experienced investor or are just starting out, investments provide an opportunity to make your money work for you. Both shares and property have their place (it's your adventure, after all), but having the right team around you can help you make smart investment decisions. 
Our Financial Success Plan and our team of advisors consider and coordinate each pillar in order to create life-long, intergenerational wealth for you and your family.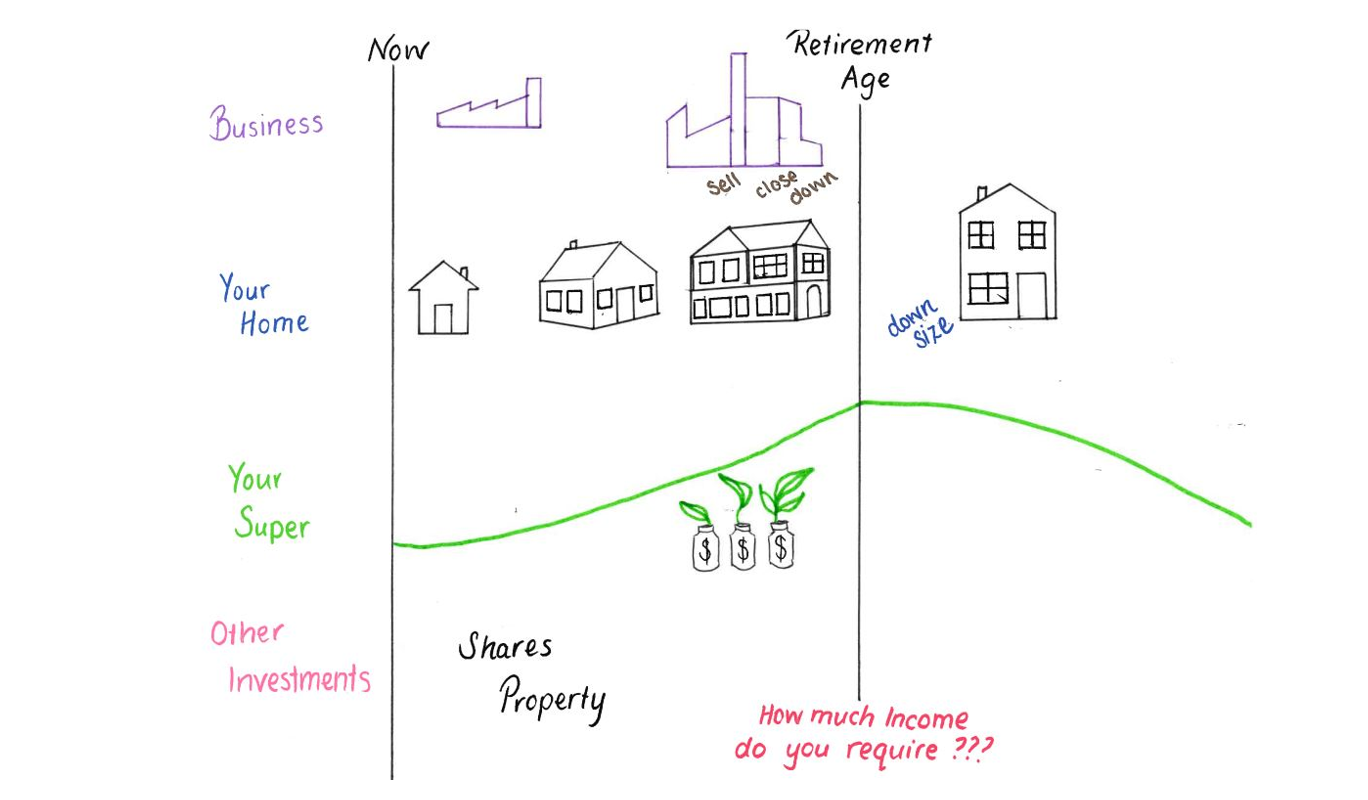 Snelleman Tom makes a better future possible
Many of our clients come to us because they've reached a crossroads in their life – maybe they're nearing retirement, or they've come into some inheritance. Or perhaps, they've simply realised that they need to be doing something to grow and protect their wealth. Our clients recognise the value of good advice and know that with the right team around them, they can have control over the life they want. 
We work with clients in all stages of the financial journey – retirees wanting to maintain the lifestyle they've grown accustomed to, families seeking advice for intergenerational wealth creation, businesses looking to expand. No matter where you are in your journey or what your goal is, we can help you find the way forward.
Ready to choose your own adventure?
No matter where you are in your life's journey, Snelleman Tom can help you get where you want to be. From day one, you'll have access to a team of Accountants, Financial Planners and Business Advisory professionals all working together towards your goal, whatever that goal may be. 
Your team of advisors will be there at every turn, helping you to explore your financial opportunities, protect what you've worked hard to achieve and create the life you've always wanted. We help you choose your own adventure. So, what's your number?